Tims resårstickade byxor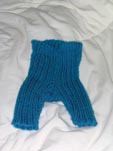 Tims byxor är stickade för hand. När man stickar små plagg till dockor får man lätt problem att resråren inte vill ligga rak eftersom den är för få varv i förhållande till maskstorlek. Den här typen av problem undviker man genom att reårsticka hela plagget.
Stoleken är Custom och namnet på storleken heter Tim. Läs noga i manualen hur du skall mäta så att det inte blir fel.
Notera att jag har lagt in en kommentar om resårmönstret i programmet
KNITWARE BASICS DESIGN
Ankle length Slim Pants
Printed: 2005-03-18
Pattern File Name: byxor
Size: Waldorfbaby for: Tim
Date started: 2005-03-18 Finished: *
YARN DESCRIPTION:
Plus; Blå; 100% akryl; 40 gr fintvätt
GAUGE DATA:
Gauge (resår over 4 in = 10 cm): 22,0 sts by 32,0 rows.
Body knit by hand on 3,5 mm needles
Ribbing knit by hand on 3,5 mm needles
FINISHED DIMENSIONS: (cms): ... with Moderate fit.
Length: 22,3 Waist: 31,0 Front Crotch: 11,4
Leg Len: 12,0 Hips: 36,3 Back Crotch: 14,2
Hem Len: 0,7 Leg Width: 15,5
Waistband Len: 1,0
resår
Worked on a multiple of 2 plus 0 sts.
Resår 2X2
Note: Read ALL these instructions thoroughly BEFORE starting to knit.
PANTS LEFT LEG:
1. Start at the bottom of the leg. Cast on 36 sts on size 3,5 needles. Work 4 rows in garter stitch or ribbing for the hem. Start resår pattern.
2. Leg shaping. Increase 1 st at each end of next row, then each end of every following 3rd row 9 times, to total 56 sts. Work even until piece measures 12,0 cms (40 rows).
3. Crotch Shaping. Cast off 6 sts at beginning of next 2 rows. Decrease 1 st at each end of next row. 42 sts remaining.
4. Work short rows for back bottom shaping as follows. Work 21 sts, turn work. Purl next row. Work 16 sts, turn work. Purl next row. Work 11 sts, turn work. Purl next row. Work 6 sts, turn work. Purl next row.
5. Optional Hips to Waist shaping. Continue, working across all sts. Work even until piece measures, at back, 16,9 cms (54 rows). Mark centre of row. Leave 1 st unworked each side of centre, then dec 1 st at both sides of this centre pair on the next row, then every following 7th row once, then every 8th row once to 36 sts.
6. Work even until piece measures, at back, 23,8 cms (76 rows).
7. Waistband. Instructions following are for ribbing. [Optionally work lace holes, garter stitch, elastic casing, etc.] Change to size 3,5 needles. If no hip to waist shaping, decrease 6 sts evenly across the row to 36 sts. Work in K1P1 ribbing for 4 rows. Cast off loosely in ribbing.
PANTS RIGHT LEG:
1. Work as for left leg, reversing back bottom shaping.
SUSPENDERS (Optional):
1. Make two the same. Cast on 3 sts on size 3,5 needles. Work even in garter stitch or ribbing for 22,6 cms, or until the length is sufficient, when slightly stretched, to reach from the bottom of the waistband at the front, over the shoulders, and to the back waistband. Cast off.
FINISHING:
1. Sew center crotch seam, then inside leg seams.
2. Sew suspenders inside the waistband, close to the center. You may want to cross the suspenders, or stitch them together in the center of the back. Accent with buttons, lapel pins, or decorative stitches.
3. Sew in all loose ends.
AMOUNT OF YARN REQUIRED TO MAKE GARMENT:
--- WARNING. THIS IS A ROUGH ESTIMATE ONLY. Measure a sample piece for a more accurate calculation.
Amount needed:
55,7 for body
2,6 for waistband
58,3 Grams TOTAL
NOTES:
Pattern designed by: Nina with KNITWARE DESIGN (Version 2.50.1)
Om du har frågor får du gärna skicka ett mail till info@vikatextil.se
Tillbaka till sidan med stickbeskrivningar.
Tillbaka till första sidan om Knitware.